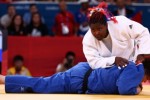 The Cuban judo female team received six invitations to compete at the Tokyo Grand Slam, from November 30 to December 2.
The group of Cuban competitors will be led by the Olympic champion from London-2012, Idalis Ortiz, in the more than 78 kilogram category; and the second place winner there, Yanet Bermoy, in the 52 kg category.
According to a note from the National Information Agency Dayaris Mestre (48 kilos), Maricet Espinosa (63), Onix Cortés (70), and Kaliema Antomachín (78) will also compete there.
The Cuban participation at the Japanese meet is another recognition of the competitive quality of the judokas led by teacher Ronaldo Veitia, who recently confirmed their class at the World Team Championship in Brazil.
In Brazil, the Cubans ended in third position with the host, behind Japan as champion, and China in second place.