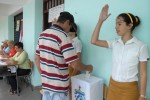 About 866,000 Cubans, of the about one million registered to vote, attended the runoffs for the municipal elections, which were held in 13 of the 15 country's provinces.
According to a partial report from the National Electoral Commission (CEN), 85.52 percent of those registered had gone to the polling stations to vote until 5 p.m. local time.
According to tradition, children guarded the polling stations and voting was carried out in a calm, discipline, and organized climate.
CEN President Alina Balseiro told reporters that the 3,210 polling stations nationwide reported massive attendance to elect the delegates to municipal assemblies.
On Sunday, people in 1,160 municipal districts nationwide, cast their free and secret vote to elect the same number of delegates among the 2,328 candidates previously nominated at neighborhood meetings.
The eastern provinces of Holguin and Santiago de Cuba did not hold the runoff because they were involved in the recovery from the damage left by hurricane Sandy.
According to CEN, the runoff in Holguin will be held in 125 districts of its 14 municipalities next Sunday.
With regard to Santiago de Cuba, electoral authorities predicted that they will visit that territory, the most pounded by the hurricane Sandy, to set the date for the runoff.