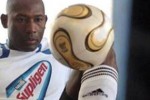 Cuban champion Erick Hernández established today another world record when he kicked a soccer ball during 3 hours 8 minutes and two seconds non stop at the Copacabana Hotel in this capital.Hernández improved his old record of 3 hours,6 minutes and 3 seconds established in 2010 at Hotel Parque Central.
With this record the champion wanted to congratulate all soccer players in an anniversary of the International Day of Soccer Players.
He has won two Guinness records: one for hitting the ball with his head 319 times during one minute and another for controlling the ball with his legs during one hour and 28 minutes.