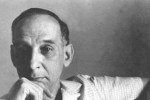 The International Book Fair will pay special tribute on Monday to the famous Cuban playwright Virgilio Piñera (1912-1979), as part of the celebrations on his 100th birthday.Prominent critics, scholars and followers of Piñera, who was also a poet and a storyteller, will meet in the Nicolás Guillén Hall at the fortress of San Carlos de la Cabaña, the main venue of the fair, to speak about the vast literary work by the author of emblematic plays in Cuban theater, such as Aire frío (Cold Air).
After the debates, six volumes written by Piñera will be presented, most of them published by Union, the editorial hallmark of the National Union of Writers and Artists of Cuba (UNEAC), the institution that leads the tributes of the so-called "virgiliano" year.
Among the titles that are part of the Centennial Collection are La carne de René, La isla en peso, Pequeñas maniobras, Presiones y diamantes, and Virgilio Piñera en persona.
Another special moment at the Fair will be the meeting with the distinguished poet, playwright and essayist Chiqui Vicioso, who will present her book Cantares de la pasión lícita, which is on the list of titles published by Casa de las Americas.
On the other hand, recognized Cuban intellectuals praised the work by the researcher, literary critic and editor Ambrosio Fornet Frutos, who along with historian Zoila Lapique, are the guests of honor at the 21st edition of the Havana Book Fair.