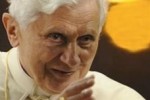 The Conference of Catholic Bishops of Cuba welcomes Pope Benedict XVI, who will visit the Caribbean island on March 26-28. The institution described as good news the Pope's visit, which has generated a particular enthusiasm in communities and catholic parishes, according to a communique published in Granma newspaper on Friday.
The note highlights the wish of the Pope, who despite his age and his great responsibility in the Catholic Church and worldwide, will come here to accompany and celebrate with Cubans the 400th anniversary of the discovery of the image of Our Lady of Charity (Virgen de la Caridad del Cobre), Cubas's patron saint.
The Pope's visit to Cuba has particular relevance because it coincides with the Marian Jubilee Year, after three years of preparation in communities, and the unforgettable memory of the tour of Virgin throughout the country, the Conference of Catholic Bishops of Cuba stated.
Taken from Prensa Latina