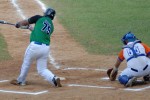 With its 40th victory in the current Cuban baseball season, Sancti Spiritus team had a walk off hit against Cienfuegos's  and won 6×5 in the bottom of the 9th inning to keep the one-game advantage over present champions Pinar del Rio.
Roosters needed to fight tough as Elephants took the lead during the whole encounter. Thus, they first tied the game to 2 runs in the 6th, and then to 5 in the 7th. Substitute first-baseman Yordanis Rodriguez had a key role in the game by shooting the golden hit in the 9th.
So far Elephants have used their best pitching as they have placed internationals Norberto Gonzalez and Noelvis Entenza, as well as their star closer Dunier Ibarra, leader in the saved games department.
Before the start of the confrontations Cienfuegos offensive made it for a 285 while Roosters' went for 284, both above the national average. Defence performed similar in both teams: 969 ave for Roosters and 968 for Elephants. The difference lies in the pitching area where Cienfuegos was best with a 3, 36 ERA while Sancti Spiritus held a 4, 02 ERA.