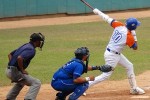 Sancti Spiritus got to sweep Industriales Lions for the first time in the 51st Cuban baseball national season by defeating them on Monday with 12-5 score and Yuliesky Gourriel's 21st homer.
This is a relevant result for Roosters in their expectations of qualifying to play off as they started the subseries vs. Lions in the 5th position in the West, place they have currently sent Pinar del Rio to. The Tobacco Growers are Sancti Spiritus main rivals in the fight for qualification.
The offensive has certainly taken the lead in the awakening of the central Cuban team, playing for a 500 ave at present with a 37-37 record. Roosters' most important men in the roster have been key in their team's three victories vs. the so-called "illustrious" team in Cuba's baseball.
On Monday game for instance from the third to the sixth player in the line-up, they were responsible for 9 of the 12 runs scored. Internationals Frederich Cepeda and Yuliesky Gourriel had an outstanding performance in the three-game series. The former made it for 5-4, with 3 runs scored in and 4 brought over home plate, while the latter shot three homers in subseries and was the most valuable player on Sunday game.
Defence was excellent in the three confrontations and supported greatly Roosters pitching area.
Upcoming subseries are to be held in Sancti Spiritus headquarters, the Jose Antonio Huelga Stadium, vs. Artemisa Hunters and Cienfuegos Elephants.