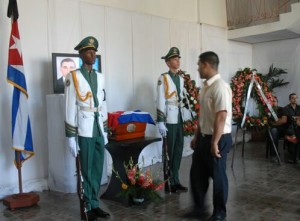 Yaguajay, a northern municipality in the Cuban central province of Sancti Spiritus, pays tribute to the Cuban diplomat Crescencio Nicomedes Galañena Hernandez, murdered in Argentina in August 1976, victim of the Operation Condor, which involved the country's military dictatorship that killed thousands of people.
The tribute was initiated by Galañena's relatives, whose remains are exposed until Thursday noon at Yaguajay's Culture Center, where villagers go to show their respect.
On August 9th, 1976, Crescencio Nicomedes Galañena Hernandez and Jesus Cejas Arias, Cuba's embassy officials in Argentina, were kidnapped after work and led to one of the Automotores Orletti facilities, where they were tortured and later disappeared.
Despite the intensive searches, it was not until last June11th that a group of children, hunting near San Fernando airfield, noticed a rusty barrel filled with cement mixture with a capacity of 200 liters through which came out bones, so they called the police, who also discovered two other similar barrels with bones.
Argentine experts ruled that the bones found in the first barrel belonged to Yaguajay's diplomat Galañena Hernandez, and since that moment the proceedings for repatriation began.
The remains of Galañena are to be deposited at noon in the Pantheon to the Fallen in the Defense of Yaguajay, after the people had paid tribute to the Cuban diplomat.
[nggallery id=38]