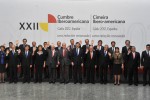 Cuban Foreign Minister Bruno Rodriguez Parrilla warned of threats posed to Latin America and the Caribbean by the current world order and defended regional integration as a way to face them.
Speaking at the plenary session of the 22nd Ibero-American Summit of Heads of State and Government, which concluded this Saturday, the Cuban diplomat described as dangerous the world situation, marked by the economic crisis and the warmongering stand of the North Atlantic Treaty Organization.
"Economic relations remain significantly unfavourable to Latin America," said Rodriguez.
He noted that the economic links are characterized by "an unequal international economic order, the irrational and unsustainable nature of the capitalist models of production and consumption and the environmental damage."
In this regard, he highlighted the increasing effectiveness of the regional mechanisms of coordination, cooperation and agreement, like the Community of Latin American and Caribbean States (CELAC), a 33-member country bloc founded in Caracas in Dec. 2011.
He said that in view of the threats posed by the establishment of a clearly offensive military and nuclear doctrine, the destabilization of sovereign states, the backing of rebel groups and military intervention, CELAC is our most valuable work, with which we defend more than two centuries of struggle and hope.
In his speech, Rodriguez appreciated the declarations against the US blockade against Cuba in Ibero-American summits and the solidarity in the wake of damages left by Hurricane Sandy in eastern provinces.