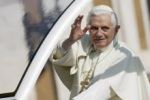 The visit of Pope Benedict XVI to Cuba on March 26th will reaffirm the humanist vocation of the Revolution, stated today the general coordinator of the Reflection and Solidarity Group Oscar Arnulfo Romero (OAR), Gabriel Coderch.
Benedict XVI will arrive to the Island in moments of economic transformations within the socialism and, without doubt, his visit will reaffirm the humanism of the Cuban process, said Codrech to Prensa Latina.
His Holiness may ratify a number of social achievements of this country. The fact that despite the difficulties there are no children in the streets and no beggars, education stays free, public health, access to culture, and a harmonious social development, say much about the humanity of the Cuban Revolution, he said.
The official also made reflections about the importance of Pope´s visit, which will last until March 28th.
His arrival here must be seen in two dimensions: one as a spiritual leader for millions of believers, and the other as a Chief of State, explained the catholic activist.
In the case of Cuba, the visit is relevant, in first place, because Pope did not accept United States pressures in relation to the Island, he added.
It is also significant that in a tour through Latin America he opted for visiting just two countries, Mexico with tradition of papal visits, and Cuba, where relations between Catholic Church and the government have strengthen, he pointed.
He recalled that the Communist Party of Cuba (PCC), included in the guidelines of the Sixth Congress, held in April 2011 – a discussion aimed at bringing together all of society.
The policy of the State, the government and the PCC is to bring together the Cuban nation without racial, sex or religious discrimination, among other, the activist said.
"In that sense, President Raul Castro has been cleared when he reaffirmed that every existing form of discrimination must disappear (…) That is why there is a great political will that is being recognized by the Cuban catholic hierarchy and Pope Benedict XVI", he stated.
Coderch is coordinator o fan institution inspired in the work of Salvadorian Archbishop Oscar Arnulfo Romero, who was killed by the must reactionary forces of his country.
The group, that since its beginning tried to trespass the limits of the theological and social reflection to make communitarian actions, works with Cuban churches and society, through initiatives with social benefits.
Taken from Prensa Latina