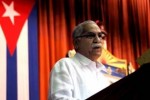 Cuban Minister of Informatics and Communications, Maimir Mesa, said today to the Parliament that studies and projects to enhance the social use of the Internet and reduce costs in the mobile phone service are in progress.
During the presentation of a management report to the legislators' plenary session, the minister explained that there is a political will to continue expanding the access to the network of networks, depending on the main focus of the collective benefit and resource availability.
The points of Internet associated with social and community development, such as education and scientific institutions have the priority in this regard, Mesa said at the Havana's International Conference Center, where the Parliament is in its third day of sessions of the Seventh Legislature.
According to Mesa, legislators are working on projects such as the implementation of the Public Data Center and the email platform.
In parallel, we advance in security and protection of networks, on which we should create a general awareness of its importance, the minister said at the meeting, on which 600 lawmakers of the National Assembly of People's Power were called.
Commenting on the management report, officials from the Ministry of Informatics and Communications announced the reduction of the access to mobile phone services by the population.