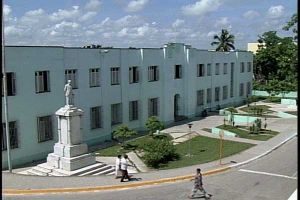 Sancti Spiritus University Jose Marti Perez (UNISS), established as such two years ago after a long period of more than three decades, is going through a process of evaluation to achieve the status of Accredited among the higher education insitutions in Cuba.
The partial conclusions of the assessment are to take place this Friday with the presence of Higher Education Minister Miguel Diaz-Canel Bermudez, and later on the facility will be visited for a second time in which other edges are to be weighted.
As part of the assessment process, an evaluation committee of the Ministry of Higher Education has overseen the development of the several aspects that make up the institution's functioning, from the teaching itself, life in the college residence, and extracurricular activities to scientific and technical work, which in the case of UNISS is broad and covers some socioeconomic important sectors, such as food production, energy generation from renewable sources and the drive to local development through a series of projects in different municipalities and communities.
According to Manuel Valle Fasco, UNISS's rector, if Sancti Spiritus University is finally granted the Accredited status, it would be of greater stimulus,  as it would mean that the institution has quality indicators that meet the representative standards of the performance, both, of the professors and the students, and that it reflects the depth of each of the processes and the maturity and high level in meeting the various indicators.
"Right now many universities in Cuba are working in terms of being worthy of this accreditation, few of them have accomplised that; of  the small ones, none so far. We are at the forefront of those which have undergone this process, let's wait until the final result", said the Rector.