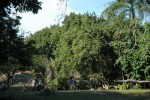 Sancti Spiritus Botanic Garden has been included in a local development project intended to attract the attention of Cuban and foreign visitors.
According to Carlos Nilo Rodríguez, director of the institution, plans have been made to foster the cultivation of fruit trees, and to increase the existing collection of Cuban endemic plants, as well as the presence of threatened-with-extinction plant species.
The Biodiverso 2012 forum was held this year, which was aimed at the agglutination of studies on the biodiversity characteristics of the central region of the island.
Fossil biodiversity present at Domo Zaza, biotechnology techniques used to favour animal feeding, a bonsai bed, and a Japanese garden were some of the research works presented at Biodiverso 2012.
Sancti Spiritus Botanic Garden is found less than one mile away from the historic centre of the city.
(Taken from Juventud Rebelde and translated by Escambray)