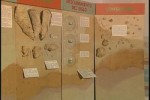 The fossils discovered at Domo  Zaza, in the southern region of Sancti Spiritus, are among the oldest so far found in the Antilles islands. It was such affirmed by Alejandro Romero Emperador, president of the Speleology Association of Cuba.
Romero Emperador told Prensa Latina that for several years, Cuban and foreign experts have worked on that area, located over 370 kilometers east from Havana, and next to the Zaza dam.
The also delegate of the Antonio Nuñez Jimenez Nature and Man Foundation, said that the first researches were carried out in this paleontological site at the beginning of the 70s, and the site was found in 1991. The evidences studied are 18 to 20 million years old, he added.
It is considered that this area is not unique in Sancti Spiritus, and might include the region from Trinidad to Jatibonico.