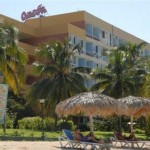 The Cuban Ministry of Tourism (MINTUR) announced Cuba had received already one million tourists in 2012, ahead of the date they had forecasted.
According to MINTUR, during the first three months of this year, the number of arrivals had grown by 4 percent while the tourism industry's revenues show a 12 percent growth.
MINTUR experts said Russia has become one of the main emitting markets, along Canada, Argentina, Italy, UK and Germany.
International tourism is a key sector for Cuba's development. As part of the updating of the Cuban economy model, authorities plan to spread the possibilities in the tourism industry by, for example, opening new air routes and building golf courses.
In 2011 Cuba received over 2, 7 million visitors, including 78 500 Russians. In the first three months over 26 000 Russians visited Cuba, almost doble the figure of the same period last year.
Taken from AIN