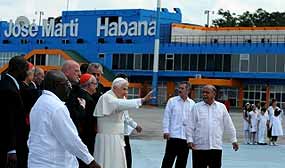 Pope Benedict XVI arrived at Havana's Jose Marti International Airport Tuesday from Santiago de Cuba on his second day in Cuba. The Supreme Pontiff was welcomed by authorities from the Government and the Catholic Church.
His Holiness Benedict XVI will have a tight agenda, including meetings with President Raul Castro, many bishops, religious leaders, and other figures.
On Wednesday at 09:00 local time (14:00 GMT), His Holiness will officiate a mass at the Jose Marti Revolution Square, where a mass participation is expected.
The Pope concluded his program in Santiago de Cuba with the visit to the Sanctuary of the Virgin of La Caridad del Cobre.
His visit coincides with the Jubilee Year for the 400th anniversary of the discovery of the image of the Virgin of La Caridad del Cobre, considered for the Catholics the patron saint of Cuba.
For a second time, Cuba receives a Bishop of Rome. Before him, John Paul II did it in 1998.
Taken from Prensa Latina