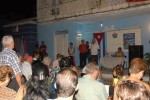 Cuban voters had already held over 48,000 assemblies until Saturday, September 22, during the first stage of the Cuban general elections now entering its final week.
Nearly 95 percent of constituency meetings to nominate delegate candidates to the People's Power Municipal Assembly has been held, Alina Balseiro, president of the National Electoral Commission, said.
Cuba is holding the first stage of the general election from September 3 to 29, to elect delegates to the municipal and provincial assemblies of People's Power, and deputies to the Parliament.
About 31,000 delegates have nominated, of them, over 34 percent are women, 19 percent are young, and 27 percent are acting delegates of the current mandate, Balseiro noted.
With a massive popular participation since September 3, through direct and public vote, the nominations of those who will be elected as representatives from each demarcation to the 168 municipal bodies of the State will be created.
The first round of polls to elect candidates to the municipal assemblies of People's Power is set for October 21. A week later, on October 28, there will be a runoff in places where candidates fail to get over 50 percent of the votes.