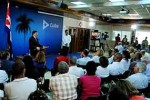 The U.S. blockade against Cuba that has lasted for more than 50 years has cost this country losses equivalent to $100 billion USD, Foreign Minister Bruno Rodriguez announced on Thursday at the presentation of a report on the damages to the island resulting from the policy.
The blockade is without doubt the main cause of Cuba's economic problems and the fundamental obstacle to its economic and social development, noted Rodriguez.
During the Obama administration, which began in 2009, fines imposed through sanctions exceeded $2,259,732 USD, which includes sanctions for the implementation of the blockade against Cuba and other countries.
The human damage is incalculable, the blockade causes suffering, shortages and difficulties that affect every Cuban family, children, old people and women, said Rodriguez after stating that the policy is a massive, flagrant and systematic violation of human rights.