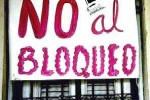 Fifty years after been official, the US government´s economic, commercial and financial blockade against the Caribbean island of Cuba generates the almost unanimous rejection of the international community, said the Cuban Foreign Affairs Ministry here Monday.
In an interview to Prensa Latina, Cuban Foreign Ministry´s director of Multi Lateral Affairs Anayansi Rodriguez said that recently, 142 countries and 26 specialized agencies of the United Nations sent UN Secretary General Ban Ki Moon a document with their considerations on this unilateral measure against Cuba.
Besides the sovereign countries -she specified – the World Health Organization, the Unesco, UNPD and the International Labor Organization of the Work, among others, exposed their considerations on the document.
"Most of the approaches reflected an overwhelming accusation for the continuity of the application of the sanctions since February 7, 1962, starting from the executive order 3447 by then US President, John F. Kennedy," she pointed out in this capital.
According with Rodriguez, the international concerne responds to the report that the UN Secretary General should act on the fulfilment by the US of the Resolution approved in October 2011 by the United Nations, which names is "Necessity of Putting an End to the Economic, Commercial and Financial Blockade imposed by the United States of America against Cuba."
That document was presented last year before the UN General Assembly and was supported by 186 of the 193 member countries of the international organization, a support expressed by the twentieth consecutive occasion since 1992, she remembered.
In spite of the almost unanimous appeal of the planet, Washington is determine to ignore it, and not only has it kept the blockade, but rather increase it, said the Cuban official who commented that the UN Secretary General's report on the execution of the Resolution was circulated to all members of the United Nations. (Taken from PL).