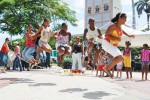 The 4th International Workshop on Youth will analyze in Cuba as of today the diverse expressions of that social sector in Latin America, and within the context, the social and economic changes in this Caribbean island.
The event, planned by the Youth Study Group of the Center for Psychological and Sociological Research (CIPS), will start today and run through November 14, with the attendance of 120 people from a dozen countries.
Delegates from Paraguay, Argentina, Brazil, Ecuador, Chile, Colombia, Mexico, Uruguay, and Angola will participate in the discussions, focused on factors such as diversity, dialogue and transformation.
According to organizers, the workshop aims to promote a space for reflection, learning and mutual construction, to generate images of the present and desired future for children, adolescents and young adults in Cuba, and Latin America.
During the conference, the CIPS will launch the Latin American magazine on social studies, children and young adults.
After completing the event, participants will visit many places in the capital, to exchange experiences about the work for and with children, adolescents and young adults.