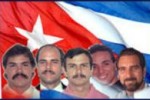 The leader of the Cuban Revolution, Fidel Castro, spoke with relatives of the five anti-terrorists sentenced to long terms in U.S jails, where he inquired about the current status of each.
"Here we are seeing the relatives of The Five. We have to see what these men have endured, "said Fidel Castro at the Havana Convention Center, site of Friday's presentation of two volumes of his memoirs, "Fidel Castro Ruz: Guerrillero del Tiempo".
According to Granma newspaper, Fidel Castro insisted that he is convinced that "we will succeed" in the struggle for the return of the Five.
Antonio Guerrero, Gerardo Hernandez, Rene Gonzalez, Ramon Labañino and Fernando Gonzalez were arrested in the USA in 1998 for monitoring violent groups from Miami, South Florida, who were acting with impunity against Cuba.
Fidel Castro held a brief telephone conversation with Rene, who has been forced to remain on U.S. soil for three years under supervised release by a judge in Florida after being released in October 2011.
Olga Salanueva, wife of Rene, told Fidel Castro that Washington has denied her a visa to visit her husband for over a decade, the same violation of rights suffered by Adriana Perez, wife of Gerardo.
Antonio's mother, Mirta Rodriguez, gave details of the transfer of her son, confined in a maximum security prison until recently.
"He remains, like his comrades, with the same fidelity, strength, good spirits and the desire to finally attain victory," said Mirta. (Taken from PL)