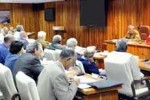 The Cuban government assessed compliance with the Guidelines of the 6th Congress of the Communist Party (PCC), which govern the transformation of the economic model of the country, reported Granma newspaper on Monday.
At a meeting of the Council of Ministers, Vice President Marino Murillo reported that they are developing a proposal to conceptualize the resulting from the implementation of the said policy and the Bases of the Social Economic Development Program of the country in the long term, says the newspaper.
Murillo said the second half this year was marked by further implementation and development of the measures implemented in late 2011 and early 2012.
He recalled the approval of the tax law, which will take effect together with its new regulation next January, of Decree-Law 305 and 306 (relating to a new Immigration Reform).
The Vice President also referred to the creation of legal rules to establish, experimentally, the agricultural cooperatives such as the new General Regulation of the Basic Units of agricultural production, which eliminates the bonds so far limited their operation and management, according to the official.
He added that rules on self-employment are under legal approval to continue loosening then, which among other issues raise the licensing for activities tha had been suspended so far and incorporating other in order to further improve the functioning of this form of non-state management, which currently hosts more than 395,000 workers.
As part of the Guidelines, the Cuban government eased credit delivery and expanded the scope of providing subsidies to build, in order to diversify and allow greater access to them, Murillo said.
He also explained that the economic plan for 2013 includes a financial amount to support several measures for the care of the elderly and boost the birth rate.
In this regard, President Raul Castro, who chaired the ministerial meeting on Friday, called to study Cuban demographic situation to find solutions to the problem of low birth rates in the Caribbean nation, which is a clear manifestation of social development achieved by Revolution, the president said.