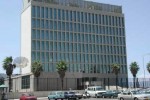 Cuba stated that the U.S. Interest Section (USINT) in Havana serves as a headquarters for the U.S. federal government's subversion policy against the Caribbean nation.
In its effort to provide a leading role in the impossible task of turning its mercenaries into a credible internal opposition movement, the USINT has channelled the U.S. government's budget funds to feed the internal subversion business, an official statement said.
The USINT has reached the point where it has taken on training tasks, established within its local headquarters where it provides illegal internet centers to train and give courses to people, says a note from the Cuban Ministry of Foreign Affairs.
Washington's objective is to have those individuals act against the interests of the Cuban State, in flagrant violation of the Vienna Convention on Diplomatic Relations, Cuban laws and the agreement itself that gave rise to the establishment of the U.S. Interest Section, the document states.
The United States has among its main objectives the fabrication of an opposition movement to the Cuban legitimate government and strengthening internal destabilization in order to cause "regime change" in Cuba, the ministerial statement says.
In recent years, the USINT has carried out illegal activities that have nothing to do with the functions of a diplomatic mission and consist of training, financing and supplying its mercenaries in Cuba with means and technologies, Granma newspaper reported today.
"Diplomats from that office permanently incite those people, who respond to the U.S. government's interests against Cuba, in exchange for a generous monetary reward, to begin provocative actions (…) and act against the Cuban constitutional order," the document notes.
In Cuba, as in many countries, the consent of the State and the approval of the Ministry of Higher Education is required to provide educational programs or courses.
An authorization and operating license from the Ministry of Informatics and Communications is needed to provide internet services. The USINT has no permission to grant those benefits, which are being carried out without the consent of Cuban authorities, therefore they are illegal, the statement says.
It is unacceptable and cynical that such programs promoted by the USINT are developed by the country with a policy of hostility and blockade, aimed at destroying the Revolution, restricting the free educational, cultural, academic, scientific and sports exchanges between the two countries, the document states.
Those subversive actions, plus the worsening of the economic blockade, show that the current U.S. government has no real will to leave the worst Cold War policies and practices behind, and is not abandoning its attempts to try to make our nation submit to its regime, the statement says.