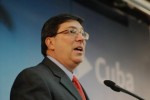 Cuba Thursday considered unacceptable and unjustifiable the US position of excluding Cuba from the next Summit of the Americas, stance in tune with the traditional hostility of the White House against the Caribbean country.In a press conference regarding the Summit of the Americas that will be held in Cartagena, Colombia, in April, Cuban Foreign Affairs Minister Bruno Rodriguez said that there was no surprise because it had been the chronicle of an announced exclusion (…) The US with its arrogance and disregard offends the big homeland.
Rodriguez told local and foreign reporters that before the start of consultations by Colombia on the participation of Havana in the Summit, the US Government had already announced the absence.
The Foreign minister said that Washington's efforts to exclude Cuba is part of a policy of isolation which includes the over 50-year US economic, financial, and commercial blockade on Cuba, which he called genocide and criminal.
The official also said that Cuba does not demand its presence in the so-called Summit of the Americas.
According to Rodriguez, Cubans will be celebrating the anniversary of Playa Giron victory while that forum is held on April 14 to 15.
The Foreign minister thanked the efforts of Colombian President Juan Manuel Santos, who on Wednesday discussed the issue with the Head of State, Raul Castro.
Rodriguez said that Santos has respectfully and cordially said them that he has not reached a consensus for inviting Cuba to the Summit, and Rodriguez added that the member nations of the Bolivarian Alliance for the Peoples of our America (ALBA) will follow up the situation on the exclusion. (Taken from PL)