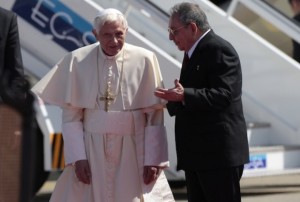 Pope Benedict XVI is scheduled to meet as for Tuesday a broad agenda in Havana which includes meeting the Cuban President Raul Castro during his second day in the Caribbean island.
According to the visit's program, the dialogue with the Cuban leader is to take place in the afternoon in Havana's Revolution Palace, where both heads of state are to salute from the building's staircase.
His Holiness, who came to Cuba at an invitation made by the Government and the Catholic Bishops Conference of Cuba, will meet also with religious authorities in the Apostolic Nunciature.
In the morning the Holy Father is expected to pay a visit to the sanctuary of Our Lady of Charity in El Cobre, Santiago de Cuba, an eastern province in the island which welcomed the Pope after his trip to Mexico.
Benedict XVI is scheduled to arrive at Havana's Jose Marti Airport at noon where he will initiate the second stage of his pastoral journey to Cuba, to be ended on March 28th.
His stay, under the slogan Pilgrim of Hope, is part of the celebrations of the Jubilee Year for the 400th anniversary of the apparition of the image of Our Lady of Charity, the country's patron saint, at the Bay of Nipe.
On Monday, during the official welcoming ceremony at Santiago de Cuba's Antonio Maceo Airport, Benedict XVI thanked the warm reception he was offered as well as the sentiments of respect showed during his arrival.
In his speech the Pope expressed his conviction that Cuba is looking at the future and spares no efforts in widening its horizons, based on "the fine patrimony of spiritual and moral values which fashioned the nation's true identity".
At the end of the mass in Santiago de Cuba, Pope Benedict XVI granted the Golden Rose to Our Lady of Charity. The distinction was instituted by Pope Leon IX in 1049 to grant it to Catholic personalities, institutions, and symbols of this religion.
Taken from Prensa Latina
Translated by Escambray