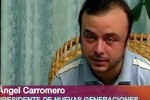 The Provincial Court in the eastern Cuban territory of Granma sentenced Spanish citizen Angel Francisco Carromero to four years in prison for his involvement in a car accident in which two people lost their lives.
According to the website, the first criminal court in the jurisdiction ruled Carromero guilty of a crime that was the result of reckless driving.
After analyzing a large volume of evidence and in accordance with legal guidelines, taking into account the seriousness of the events in which two people died, a four year sentence was handed down.
The court's ruling can either be challenged by Carromero or the prosecutor through an appeal to The Supreme Court.
Spain's consul general in Cuba and local and foreign media attended the trial held in Bayamo City, Granma's provincial capital.
Carromero was driving a car involved in an accident on the Las Tunas-Bayamo section of the Main Road, on July 22, 2012.