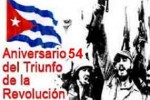 The prime ministers of Jamaica, Portia Simpson Miller, and Antigua and Barbuda, Winston Baldwin Spencer, sent messages of congratulations to Cuban President Raul Castro, on the occasion of the 54th anniversary of the triumph of the Revolution.
According to the website of the Cuban Foreign Ministry, Simpson Miller's letter highlighted the historical and cultural ties that unite Cuba and Jamaica, as a result of the cooperation and exchange between the two countries.
In the text it is also highlighted the achievements of the government and people of Cuba in promoting sustainable development and social justice, as well as contributing to the integration and friendship between countries.
Jamaica's Prime Minister reiterated in the letter his government's interest to continue expanding relations with Havana both bilaterally and through the Caribbean Community (CARICOM).
Simpson Miller celebrated the next appointment of Cuba for the presidency of the Community of Latin American and Caribbean States (CELAC) during 2013, according to the Foreign Ministry.
For his part, Prime Minister of Antigua and Barbuda emphasized the significance of the Cuban Revolution.
He also confirmed his country's willingness to further strengthen the friendly relations and cooperation between the two nations.
On January 1 Cuba will celebrate the 54th anniversary of the victory of the revolutionary movement led by Fidel Castro against the dictatorship of Fulgencio Batista, who had come to power in 1952 through a coup.