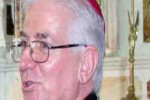 Pope Benedict XVI's upcoming visit will strengthen relations between the Catholic Church and Cuban authorities, said Monsignor Dionisio Garcia Ibañez, Archbishop of Santiago de Cuba and President of the Conference of Catholic Bishops of Cuba (COCC).
The priest stated that the common efforts in favor of the success of the preparations for His Holiness's visit to Cuba have contributed to greater and fluid communication, as well as the enthusiasm with which we take the challenge to prepare everything in just three months.
Garcia Ibañez lauded the efforts made by religious and state authorities, as well as workers, technicians and artists, who have worked with so much dedication and still do it with the objective of giving an honorable welcome to His Holiness.
The COCC president pointed out that this good will, previously present and strengthened with the current preparations, between authorities from Santiago de Cuba and the Church have also fostered the analysis of issues of common interest and points of contacts.
Garcia Ibañez expressed satisfaction with that responsibility as a Cuban bishop prior to the Holy Father's visit, and said it is a recognition of the work done through time and on the special occasion of the Marian Jubilee Year, to celebrate the 400th anniversary of the discovery of the image of Our Lady of Charity (Virgen de la Caridad del Cobre), Cubas' patron saint.
He said the Pope will come as a Pilgrim of the Lady of Charity, as many others who daily visit the village of El Cobre, because that is the objective of his visit, as part of the Marian Jubilee Year.
For Santiago de Cuba, these will be challenges and reasons of legitimate satisfaction that Cuban President Raul Castro will welcome the head of the Catholic Church in this city and that he will stay at El Cobre, the archbishop said.
Taken from Prensa Latina