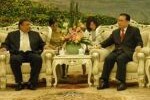 Marino Murillo, a member of the Political Bureau of the Communist Party of Cuba, on Wednesday was received by Li Changchun, top leader of the Chinese homologous organization, who was briefed about the results of the 1st PCC National Conference.
Murillo, who traveled to Beijing as a special envoy of PCC First Secretary Raul Castro to analyze some aspects related to the aforementioned meeting with Chinese party officials, also highlighted the excellent state of bilateral relations.
At the meeting at the Great Hall of the People, both leaders expressed the willingness of their parties and governments to continue strengthening bilateral ties.
They also referred to the experiences in the construction of socialism in their respective countries.
Murillo's agenda here also included a meeting with Deputy Prime Minister and Agriculture Minister Han Changfu.
The top Cuban official talked of several issues related to the development of collaboration ties in the economic and agricultural spheres.
Murillo will also meet with Wang Jiarui, head of the International Relations Department of Central Committee of the Communist Party of China.
Taken from Prensa Latina