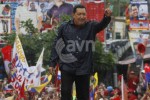 Venezuelan President Hugo Chavez will win the October 7 elections in his country, despite imperial manoeuvres aimed at giving the opposition candidate a lead, Ecuadorean student leader Carlos Torres said."!Chavez will win and long!, said the president of the Federation of University Students of Ecuador (FEUE) in an interview with Prensa Latina here, a few hours prior to the democratic exercise in Venezuela.
Torres stated that the FEVE is absolutely confident in Chavez's victory, even though mercantilist media have tried to misinform, saying that Henrique Capriles has some chance in this electoral race.
If the opposition says that, it means otherwise, said the young leader after saying that from the FEUE, he has contacts with Venezuelan youth groups, which claim there is considerable popular support for Chavez.
Chavez's victory is a guarantee, so that Latin American integration will continue making progress. It is also important that Rafael Correa in Ecuador, Daniel Ortega in Nicaragua, and Evo Morales in Bolivia go forward, he added.
Fortunately, he said, despite the strong campaign by opposition political groups, the Venezuelan people know their reality, because they know about the government's fight for social equality.
Particularly in Ecuador, those groups could not overthrow the process already implemented by staging an attempted coup on September 30, 2010, so they will try to discredit the National Electoral Council as they did in Venezuela, Torres said.