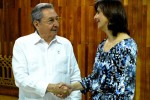 Colombia´s foreign minister Maria Angela Holguin said on Thursday in Bogotá that Cuba will be on the agenda of the upcoming Summit of the Americas, to be held next April in Cartagena, upon the request of other Latin American countries.
The dialog on Cuba will take place at the open meeting of heads of state and their delegations and not in private, the foreign minister pointed out, Telesur reported.
Holguin said that the request to address the exclusion of Cuba from the Summit and the US blockade of the island at the Cartagena Summit was issued by several Latin American countries, such as Peru, Argentina and Nicaragua.
"We insist in our gratefulness to Cuba; our meeting yesterday (Wednesday) was very good and positive," Holguin said. (Taken from RHC)