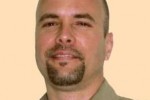 Humor from my pen, a traveling exhibition of 30 caricatures by Gerardo Hernandez "one of the Cuban Five unfairly imprisoned in the U.S.-, will be on display along this month in Melbourne, Australia.
Hernandez' works will be exhibited in the major cities of the country as an initiative of a solidarity-with-Cuba association in that nation which seeks to attract the attention of the people to the case of the Cuban Five, according to the Cuban Friendship Institute, ICAP.
When he learned about the showcase, Gerardo sent a letter to Peter Hood, secretary of the Australia-Cuba association, expressing his gratitude for their support of the Cuban Five, an ICAP official told ACN.
Hernandez explained in his letter that he didn't make the drawings with the goal of putting them together for an exhibition. He said they are the result of years of work and that he was driven by the need to express his thoughts about transcendental events of Cuba.
"Some day we will be free, that's what we hope, because we are lucky to count on friends like you to win this battle", Hernandez wrote.
The pictures were first shown on June 4, at the Social and Public Art Resource Center (SPARC) of the Californian district of Venice, U.S., in an event organized by the International Committee for the Freedom of the Cuban Five to celebrate Hernandez 46th birthday.
Later they was exhibited in Belgium and then Australia, starting in the city of Perth. Following Melbourne, the pieces will be taken to Canberra, the Australian capital, in March.
Gerardo Hernandez, Ramon Labañino, Fernando Gonzalez, Antonio Guerrero and
Rene Gonzalez were arrested in 1988 and condemned in the U.S. "in a biased trial in June, 2001- to excessive terms ranging from 15 years to two life sentences plus 15 years.
Rene Gonzalez, after having served his 15-year term, has been forced to stay in the U.S. for another three years on probation as an additional punishment.
Taken from AIN