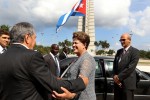 The Brazilian head of state, Dilma Rousseff, left for Haiti on Wednesday, after completing an official visit to Cuba, during which she met with President Raul Castro. Earlier, both leaders toured the port of Mariel, some 50 km west of Havana, which currently undergoes a massive renovation, partially funded by the Brazilian government.
During her two day visit, the South American dignitary also signed agreements on Cuban food purchases from Brazil, the Mariel project and Cuba's biotechnology and pharmaceuticals industry.
When meeting Raul Castro, the leaders extolled the excellent state of bilateral relations and discussed matters of international relevance.
Rousseff also criticized the existence of the illegal U.S. base at Guantanamo Bay, and the U.S. economic and political blockade, which largely contributes to the deterioration of the island's economy.
A Brazilian diplomat confirmed Rousseff´s meeting with Fidel Castro, which she had previously said was a source of much pride.
Rousseff headed to Haiti on Wednesday, where Brazilian troops lead the UN peacekeeping force and Brazil has helped finance a Cuban medical mission at work since a powerful earthquake struck that Caribbean nation last year.  (Taken from RHC).