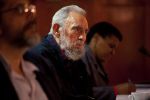 The book  "Nuestro deber es luchar" (Our Duty Is to Fight), "a revised and expanded transcription of Fidel Castro's dialogue with intellectuals from the Americas, Europe, and Africa, which took place last February in Havana on the occasion of the annual International Book Fair held in the Cuban capital" will be simultaneously launched next week in several cities around the world.
On March 14, at 2:00 pm Cuban local time (19:00 GMT), the book will be launched in Havana, Caracas, Quito, Buenos Aires, Luanda, Santo Domingo, La Paz, Ciudad de Mexico, Bridgetown, San Juan, Kingston, Washington, Madrid, and Berlin.
According to the website www.cubadebate.cu, the volume is a reflection on the dangers currently faced by our planet and by humanity.
Taken from Prensa Latina