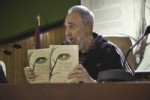 Cuban Revolution leader presented in Havana a two-tome book of his memoirs under the title "Guerrillero del Tiempo." These memoirs are the result of conversations with writer and journalist Katiuska Blanco.
The two-volume book, containing nearly 1000 pages, begin with Fidel´s first memories on his childhood, and close with the events prior to the Triumph of the Cuban Revolution on January 1, 1959.
"They will speak to you about two books that you have had not news about," said Fidel at Havana´s Conventions Center, shortly before the presentation of the book on Friday.
These memoirs are the result of conversations with writer and journalist Katiuska Blanco. Culture minister Abel Prieto and the president of the Cuban Association of Writers and Artists, Miguel Barnet were in charge of the presentation of the two volumes. (Taken from RHC).
Fidel Castro: Our Duty is to Fight for Humanity
The leader of the Cuban Revolution, Fidel Castro considered that the struggle for the interests of humanity should prevail, in a world marked by threats and scientific and technological advances.
There is no longer room only for national interests, but these must be framed within the global interest. Our duty is to fight until the last minute for our country, for our planet and for humanity, he asserted in this capital during the launching of his memories Fidel Castro Ruz: Guerrillero del Tiempo.
According to Granma newspaper, in a meeting held this Friday in the Convention Palace, the leader took advantage of the launching of the two-volume book which ranges from his childhood until December 1958, before the triumph of the Revolution, to discuss current issues.
In this sense he commented he reads hundreds of news dispatches every day, particularly following in detail the situation in Venezuela, where its president Hugo Chavez heads a transformation process focused on social inclusion and regional integrity.
Issues such as the struggles of Latin American students and the world for their rights, the threats to Syria and Iran, the risk of shale gas, prospects for nanotechnology and the importance of Internet were addressed by Fidel Castro.
The leader also insisted on the role of education in the formation of values and defended free and quality education.
Education is the fight against instinct. All instincts lead to selfishness, but only conscience can lead us to justice, he said during the six-hour meeting.
The two volumes launched with the leader's memories are the result of his conversations with Cuban writer and journalist Katiuska Blanco.
The minister of Culture, Abel Prieto, and Miguel Barnet, president of the National Association of Cuban Writers and Artists were responsible for the presentation of the volumes that have more than a thousand pages. (Taken from PL).