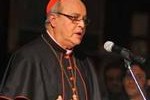 The Archbishop of Havana, Jaime Ortega, conveyed a message of joy, peace and hope to all Cubans, during a concert to celebrate Christmas.
In the soirée that ended by midnight, Cardinal Ortega said the Christmas season should bring peace and harmony to the family and all Cubans, and called everyone to open their hearts and let faith get into them.
He also made reference to the people of Santiago de Cuba, Holguin and Guantanamo, territories recently affected by hurricane Sandy, adding that "they know they have been present and still are in our Christmas prayers".
We are glad for the good of the country, he added, on the improvement of economic indicators: growth in Gross Domestic Product and the trade surplus, and see with satisfaction the measures taken in the midst of the global crisis to adapt the Cuban economic system to modern times.
The Christmas concert, held at the Cathedral of Havana, included the play Bariona el hijo del trueno (Bariona the son of Thunder), written by Jean-Paul Sartre during Christmas of 1940, while he was held captive in a concentration camp.
The program also included the Oratoire de Noël, op. 12 (French composer Camille Saint-Saëns) and other traditional carols by the Schola CAntorum COralina, the Coral Juan Pablo II and the Orchestra Solistas de la Habana.