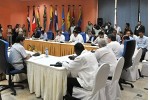 The Political Council of the Bolivarian Alliance for the Americas-Peoples' Trade Treaty (ALBA-TCP) declared itself to be in favor of Cuba's presence in the 6th Summit of the Americas scheduled for April.
The islands full participation in the Colombian forum, condemnation to Washington's economic, commercial and financial blockade of Cuba, and the obtaining of regional support against the latter, appear on the Special Declaration of the 8th (Extraordinary) Meeting of the Council, made up by the foreign ministers of member nations, held at the capital's Occidental Miramar Hotel on Wednesday.
Categorical was the support in Havana of the document issued by the foreign ministers of Venezuela, Nicolas Maduro; Bolivia, David Choquehuanca; Ecuador, Ricardo Patiño; Saint VBincent and the Grenadines, Douglas Slater, and Cuba, Bruno Rodriguez, and of Nicaragua's Deputy Foreign Minister, Valdrack Joentschke.
They rejected the recent declarations of US government officials who reiterated the refusal of that administration to Cuba's participation in the Summit of the Americas, to take place in Cartagena de Indias, Colombia.
Each head of delegation agreed that there's no reason for the island to be prevented from attending any meeting for which nations in the region are convened, so they asked authorities in Bogotá, in their condition as hosts, to carry out consultations on this matter with each of the countries invited to the Summit.
The Cuban Foreign Minister passed on the gratitude and greetings of Commander in Chief Fidel Castro and Cuban President Rau Castro, who, according to the speaker, kept abreast of the development of the meeting.  (Taken from ACN).