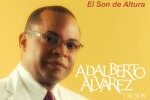 Famous Cuban musician Adalberto Alvarez gave a concert on February 7th in Sancti Spiritus, a central province in the island, as part of a national tour initiated moths ago in the eastern region.  "El Caballero del Son" (The Gentleman of Son) and his orchestra will also perform in Cienfuegos. By Javier Alejandro Brito*
Sancti Spiritus residents enjoyed the performance of the orchestra led by Adalberto Alvarez which is presenting the second stage of a national tour currently underway in Cuba's central provinces.
"This second phase began February 4th and 5th in Ciego de Avila and Moron respectively, and its main objective is to promote Adalberto's new album, yet to be recorded", explained Wilfredo Cruz, the tour's manager.
Along with the new songs presented, the renowned musical group interpreted many of the classic themes in Cuban music, thus encouraging locals to dance enthusiastically.
Adalberto Alvarez, pianist, composer, singer and arranger, known as "El Caballero del Son" (The Gentleman of Son) will travel to some municipalities from Cienfuegos province to conclude the current phase of the tour and to focus on his CD production.
"The welcoming has been excellent everywhere and all the concerts have been witnessed by many people", said the manager while adding that Cuban music is in good health and counts on a great audience.
*Journalism Student