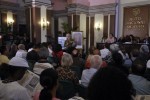 Over 500 films from 46 countries will be shown at the International Festival of New Latin American Cinema in its 34 edition.
The event will be dedicated to pay homage to the youth talents in cinema, and to the one hundred anniversary of Puerto Rican cinema.
In a press conference today, the well known president of the Festival, Alfredo Guevara, said that this relevant international exhibition has gone a very long path during all these years, thanks to the support always given by the Cuban revolution for its celebration.
This year competing films will also be shown at Cuban universities where there are an increasing number of young talents that could compete for the Coral Prizes in different categories.
The Festival will show a broad retrospective of Puerto Rican cinema and also samples from: Spain, Italy, Poland, Japan, Germany, Canada and the Caribbean.
There will also be homages to world known film makers like: Chris Marker (France), Kenji Misumi (Japan), Michelangelo Antonioni Italy) and Jan Svankmajer (Chez Republic and to Cuban famous painter Mariano Rodriguez.