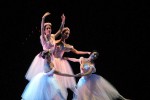 Twelve different pieces from diverse styles, genres and eras characterized the program closing ceremony of the International Ballet Festival in Havana.
Figures from the Cuban National Ballet (BNC) and stars of the dance world invited from different companies worldwide danced together in a show that included classical, romantic and graphic selections from the latest trends of this ancient art.
"Contraconcerto," by the young Cuban choreographer Eduardo Blanco, opened the festivities in the first act, which also featured "La fierecilla domada" (The Taming of the Shrew), performed by a duet from the Municipal Ballet of Santiago, in Chile.
Also on the list were a duet by the Teatro Colon Ballet, from Argentina, with "Danza para ti" (Dance for you), and the Spanish Lola Greco and Sergio Bernal, who danced "El último encuentro" (The last meeting) in the purest flamenco style and with a highly emotional charge.
Classic pas de deux such as "El cisne negro" (Black Swan) were presented by Annette Delgado and Dani Hernandez, prima ballerina and leading dancer from BNC, a company that also played "Canto vital," as an expression of strength and hope.
After the intermission, four BNC female dancers went on stage, to dance to the beat of the "Grand pas de quatre", a piece by Alicia Alonso that enhances the beauty, joy and fragility of human being.
A special moment were the premieres of the pas de deux "El corsario" (The Corsair), performed by a duet from the American Ballet, and "Madame Butterfly," by a duet from the North Ballet.
The regret and melancholy as part of the fandango were performed by Jose Manuel Carreño and Melanie Hamrick in "Transparente" (Transparent), as star Cuban dancers Viengsay Valdes and Dani Hernandez contributed with "Double bounce."
For the closing ceremony, the program included "Gottschalk Symphony," with choreography by prima ballerina assoluta Alicia Alonso.
The 23rd edition of the International Ballet Festival in Havana is already history, but the audience will continue to cherish the unforgettable moments from the 112 pieces staged, including 59 premieres that reflected a wealth of choreography from 20 countries.