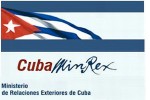 The US government reinforced with new fines the extraterritorial feature of the economic, commercial and financial blockade imposed on Cuba for over half a century.
The Office of Foreign Assets Control (OFAC) of the Department of the Treasury announced on December 11 a fine of 375 million dollars against a bank called HSBC Holdings, based in London, for the supposed violation of US unilateral sanctions on several countries, including Cuba.
Hardly a day later, the same organization disclosed the application of another fine for eight million 571 thousand 634 dollars to Japanese bank Tokyo-Mitsubishi UFJ, also under the argument to process financial transferences that involved several nations, among them Cuba.
In a declaration, the Cuban Foreign Ministry notices the new sanctions linked to the extraterritorial character of the US blockade take place less than a month after the almost unanimous rejection of the international community to this position by the White House.
The UN General Assembly approved the 13th of November a resolution on the necessity to end the blockade of Washington, with 188 votes in favor, 3 against and 2 abstentions, a condemnation issued in that forum for 21st consecutive occasion since 1992.
When taking part in the Assembly, the Cuban Foreign Affairs Minister, Bruno Rodriguez, presented other recent cases that show the reinforcing under the Obama administration of the extraterritorial dimension of the blockade.
Rodriguez mentioned that in June 2012, the Department of Justice announced a fine of 619 million dollars to Dutch bank ING by supposed violations to the regime of sanctions against Cuba and other countries, the highest in history imposed to a foreign financial organization.
Under the Obama government, the fines from sanctions reach more than 2. 259 billion dollars and duplicate the corresponding one to both the two periods of George W. Bush.
The Cuban Foreign Minister exposed the case of the 4th Summit of Heads of State and Government of Caricom-Cuba in Trinidad and Tobago, where the Hilton Hotel anticipated as host in December 2011 received final orders from OFAC to prevent the celebration of the event in its facilities.
For Rodriguez, that fact indicates that "the application of the blockade has exceeded all the conceivable limits".
The extraterritoriality of US sanctions has its expression through legislations like the Torricelli (1992) and Helms Burton Acts (1996).
Cuba has described those acts as "judicial freaks", because by means of them, the government of the United States illegally takes the right to legislate by and for other countries.
The U.S. gives itself the capacity to certify the conduct and actions of other states and the nationals of these countries who are not subjected to the US jurisdiction, says the report that Cuba presented facing the resolution debated and approved in the General Assembly on the necessity to end the blockade.