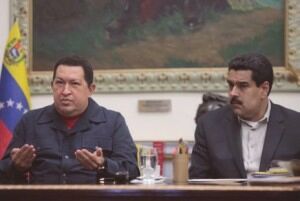 Residents of Sancti Spiritus feel sympathetic towards Chavez.
Local housewife Bárbara Echevarría Rumbaut confessed to have cried when last Saturday, the Cuban television made a break to show a statement made by Chavez himself, in which he announced he should undergo another surgical operation.  She hopes he will be able to make it so that he can continue the struggle with his people.
Young health worker Leonardo Hernandez said to be confident on Cuban medicine, and to be sure that everything possible will be made to help Chavez recover.
Chavez arrived in Havana early this Monday morning, and was welcomed by his Cuban peer Raul Castro Ruz.
Several other Latin American heads of state have expressed their solidarity towards the Venezuelan leader. Ecuadorian President Rafael Correa travelled to Cuba to visit Chavez offer him his support.
(Translated by Escambray)