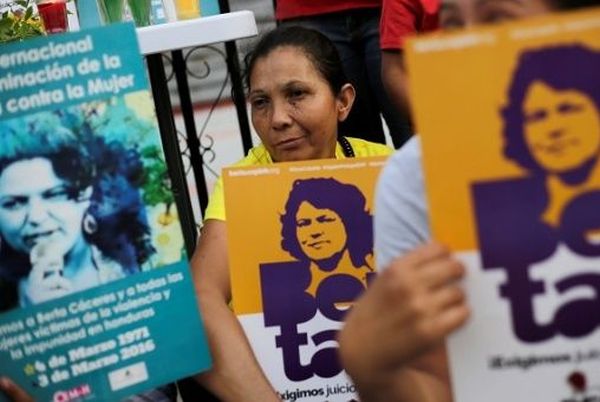 A tribunal in Honduras has declared guilty seven out of the eight accused of killing Indigenous Lenca environmental activist Berta Caceres on Thursday
Eight men, including military officials, were accused by the Public Ministry (MP) of orchestrating and carrying out her assassination in March 2016. The sentence will be disclosed on January 10, 2019.
Those found guilty were Sergio Rodriguez Orellana, community and environmental affairs manager of the Energetic Developments company (DESA); Douglas Geovanny Bustillo, a retired general hired by Desa as security director; Mariano Diaz, army officer; Elvin Heriberto Rapalo; Henry Javier Hernandez, Edilson Duarte and Oscar Arnaldo Torres. The first three were sentenced for murder only, while the remaining four were also sentenced for attempting to murder a Mexican activist who was at Caceres's home at the time of the crime.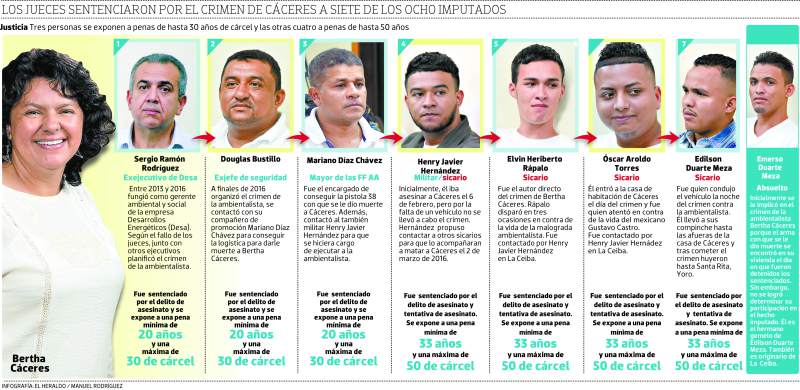 The court ruled that there was not enough evidence to prove the involvement of Emerson Duarte in the murder, despite the fact that the gun used was found in his house in La Ceiba.
Laura Zuñiga, Caceres's daughter, declared that she considered the sentence to be fair, but pledged to continue demanding justice and punishment for the intellectual authors.
"It's easy to condemn poor people in this country, even though they're murderers," she told the press after the ruling. "The murder of my mother has its origin in a criminal structure including people who paid, who benefited from this murder, who are not being judged at the moment, who are not being arrested, nor investigated, and these people are the head of a structure of which we only see the lowest part now being judged."
Caceres's family and the Civic Council of Popular and Indigenous Organizations of Honduras (Copinh), founded by the activist herself, had been accusing the Honduran justice system of excluding them from the trial and denounced public defenders of abusing their authority and concealing at least 35 pieces of important evidence against the accused, violating their responsibilities as civil servants.
Supporters of Caceres called for a demonstration outside of the tribunal at the time of the sentence to protest the lack of action against the intellectual authors of the crime.
Austria Berta Flores, the mother of the activist, also demanded the intellectual authors to be punished, because she doesn't consider "half-justice" to be justice at all.
"The real authors must be punished. Those who ordered, those who paid for her murder", Flores told the press.
Berta Caceres, coordinator and co-founder of Copinh was killed on March 2, 2016, in her home in La Esperanza, Honduras. She was a leader among the Lenca Indigenous and fought tirelessly against the unlawful construction of a DESA hydroelectric dam in Lenca territory. She won the prestigious Goldman Environmental Prize a year prior to her murder, which sparked international outrage.