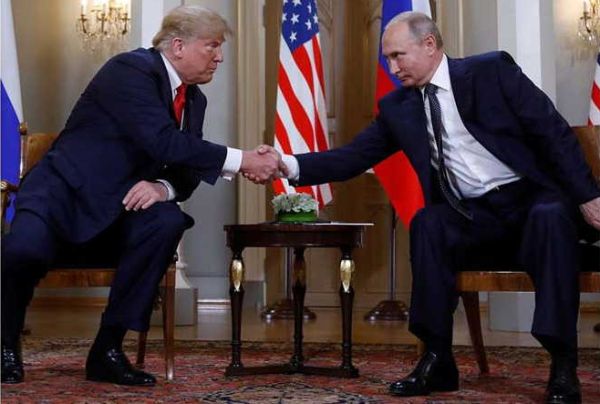 Trump called the private talks with the Kremlin leader a "good start"
Donald Trump met one-on-one with Vladimir Putin behind closed doors Monday in a long-awaited summit overshadowed by the U.S. president blaming his own country's past "foolishness and stupidity" for the two powers' hostile ties.
"Our relationship with Russia has NEVER been worse thanks to many years of U.S. foolishness and stupidity and now, the Rigged Witch Hunt!" Trump said in a tweet ahead of the meeting.
The Russian foreign ministry "liked" his words and tweeted back: "We agree".
Trump's opponents at home were furious, with one Democratic congressman saying that Trump had turned the White House into "a propaganda arm for the Kremlin".
After two hours alone in a room with their interpreters, Trump and Putin convened a more traditional-style bilateral meeting, seated at a large conference table surrounded by senior officials from both countries. Trump called the private talks with the Kremlin leader a "good start".
Earlier Trump began the meeting with warm words for Putin, seated next to the Russian leader in an ornate presidential palace in Finland, and said it was a longstanding goal of his to improve U.S.-Russian relations.
"I think we will have an extraordinary relationship. I hope so. I've been saying it, and I'm sure you've heard over the years, and as I campaigned, that getting along with Russia is good thing, not a bad thing," he said.
The Kremlin has played down expectations for the summit. It said it did not expect much from the meeting but hoped it would be a "first step" to resolving a crisis in ties.
"Presidents Trump and Putin respect each other and they get along well," Kremlin spokesman Dmitry Peskov said. "There is no clear agenda. It will be determined by the heads of state themselves as they go along."
The state RIA news agency quoted a Russian source as saying Moscow was "ready to discuss, ready to undertake mutual obligations of non-intervention into internal matters".
The summit caps a trip abroad during which Trump sternly criticized NATO allies for failing to spend enough on their militaries and embarrassed British Prime Minister Theresa May by saying she refused to take his advice about how to negotiate Britain's exit from the EU. He referred to the European Union itself as a "foe" in trade, and repeatedly criticized it.