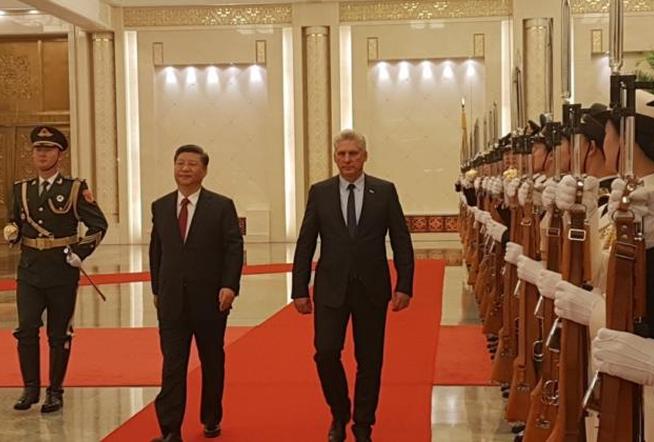 Cuba President Miguel Diaz-Canel was welcomed by his counterpart from the People's Republic of China, Xi Jinping, with whom he held official talks

Miguel Diaz-Canel, president of the Councils of State and Ministers, held a meeting with his counterpart from the People's
Republic of China Xi Jinping during the last day of his visit to the Asian giant, where he also met with other high-level representatives.
During the meeting, the dignitaries referred to the historic bonds of solidarity that unite both nations and the purpose of broadening cooperation, after 58 years of a relationship that they described as solid, according to what was published in the social network Twitter profile of the Cuban Ministry of Foreign Affairs.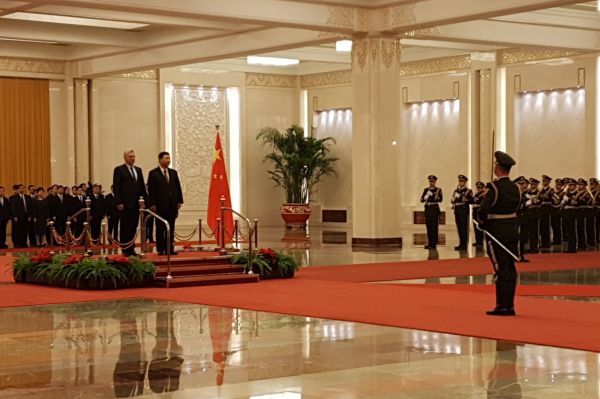 Hours earlier, the Cuban leader held talks with Li Keqiang, member of the Standing Committee of the Political Bureau of the Central Committee of the Communist Party of China, and Prime Minister, to whom he said that the new generations will continue the consolidation of bilateral relations with the Asian giant.
Diaz-Canel also met with Li Zhanshu, President of the Standing Committee of the National People's Assembly of China, to whom he conveyed a message of respect, admiration and affection for the Chinese people.
As part of the program of this last day of the Cuban President's official visit to China, he paid tribute to Mao Zedong, founder of the People's Republic of China, in the mausoleum where his remains rest and tribute is paid to him.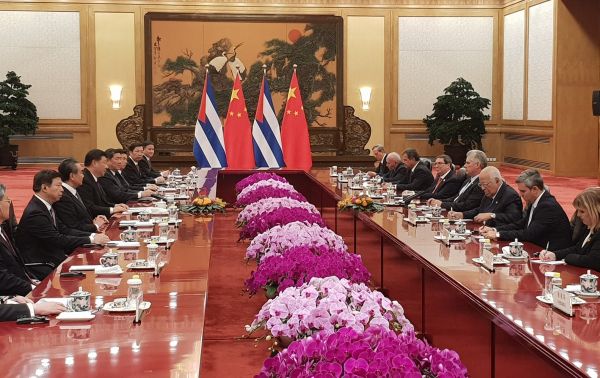 In the visitors' book of the monument he wrote: "Our commitment to these generations of heroes is to continue waving the flags of socialism and to strengthen our already historic and indestructible relations of friendship and solidarity.
Díaz-Canel and the delegation that accompanies him also paid tribute previously in the emblematic Tiananmen Square to the Heroes of the Chinese people who gave their lives for the independence of their country.
Prensa Latina pointed out that cooperation agreements are expected to be signed in different sectors in order to strengthen ties between Havana and Beijing.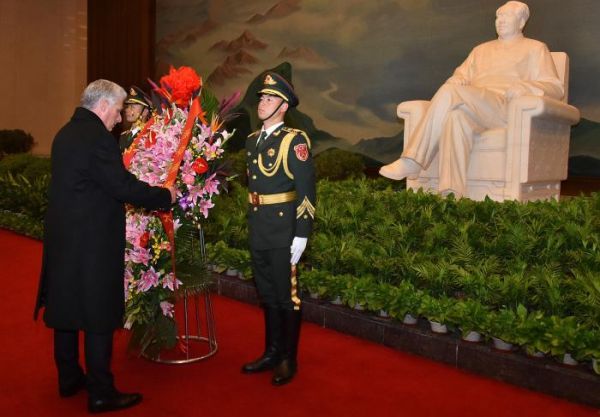 After three fruitful days in China, Diaz-Canel will travel to Vietnam, where he will meet with the secretary general of the Communist Party of Vietnam and president of this country, Nguyen Phu Trong; the Prime Minister, Nguyen Xuan Phuc; and the Head of the National Assembly, Nguyen Thi Kim Ngan.
The visit will take place a few days before the 58th anniversary of the establishment of relations between the two countries, and will include the signing of trade agreements.