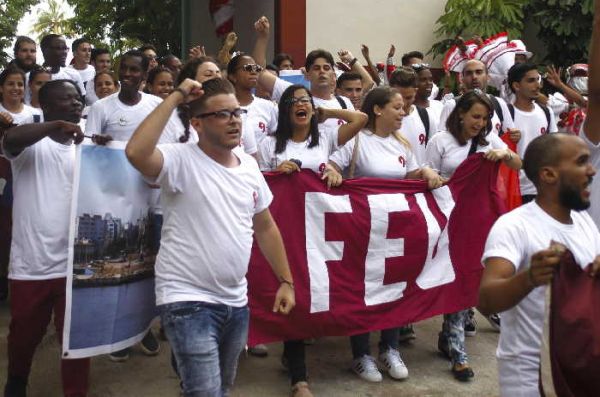 The Cojímar Convention Center will be the main venue for a program that includes meetings with representatives of different sectors

Although the official opening of the 9th Congress of the University Student Federation (FEU) will be on Saturday, the agenda of the 500 delegates and guests to the big event is full this Friday, and its motto says it all: "Revolution, a formula to win, our mission is to fulfill".
The Cojímar Convention Center will be the main venue for a program that includes meetings with representatives of the Ministries of Higher Education, Public Health, Foreign Affairs, Labor and Social Security, and Economy and Planning, Raúl Alejandro Palmero, member of the Council of State and president of FEU, told ACN.
To these talks we must add the presentation of the book Mella, una vida en torbellino, Notas para una biografía, by historian Rolando Rodríguez, an approach to the life and work of the founder of the FEU and the first Marxist-Leninist party in Cuba, whose main targets are students and young people.
Also today, the proposed modifications to the Statutes of the FEU will be submitted for the approval of the delegates, which were the subject of wide consultation during the organic process of the Congress, which from March until two and a half weeks ago passed through the levels of brigades, faculties, headquarters, affiliates and student residences, and universities.
A special moment on this first day will be a march from the Marti Forge to the steps of the University of Havana, which will begin at eight o'clock in the evening and will honor the martyrs of the university student body, the "pioneering" generation of the Revolution and its historic leader, Commander in Chief Fidel Castro Ruz.
From the Hill to the Forge generations have left, and this time we decided that it should be the other way round, as another way of reverencing those who preceded us and showed us the way, to go to meet them, and with history as a witness, to ratify our invariable commitment to unity, loyalty, continuity and victory," Palmero said.
Saturday and Sunday the Congress sessions will be in the Havana Convention Center, the first day in five commissions -by work fronts- and, the second day, in plenary, added the President of the FEU and of the organizing commission of the forum.
The day before, this genuine representation of the more than 125,000 members of the University Student Federation, the oldest mass organization in the country, founded by Julio Antonio Mella on December 20, 1922, arrived at the Cojímar Convention Center by bus from all over the country.