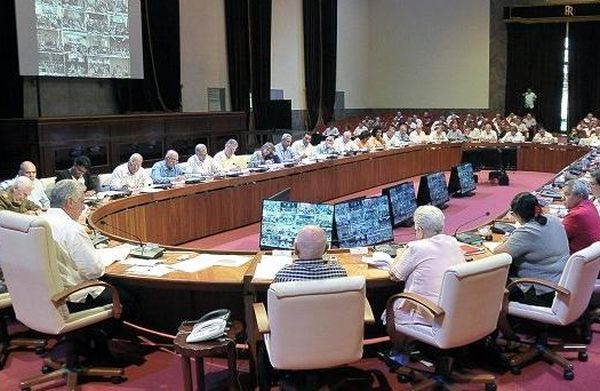 The Cuban president made the call when summarizing the recent visit made by the Council of Ministers to the province of Guantánamo

The country is immersed in an unprecedented economic battle, amidst the tense financial situation it faces, worsened by the aggressiveness of the empire, said Miguel Díaz-Canel, president of the Councils of State and Ministers, on Thursday in Guantanamo city.
Summarizing the visit of the Council of Ministers to Guantánamo to evaluate the progress of socio-economic programs in the province, Diaz-Canel was confident that "we will move forward, if we make better use of the resources and human potential available to us".
He described this battle as immediate, fundamental and rigorous, with the objective that economic development reaches domestic life, an advance that is part of the changes that the people expect from the Cuban State, and that cannot be postponed.
This context demands, he said, careful planning, and that it be capable of preventing bureaucratic methods from immobilizing it.
The Cuban President added that in this battle the political work of securing the economy, carried out by the Party, whose aim is to achieve more efficiency not only in this sphere, but also in the rest of society, will also be decisive for victory.
He advanced that "we are going to present to the National Assembly conceptual ideas to defend the 2019 economic plan, which will mark a moment of adjustment, consolidation and implementation of innovative ideas, among them that the budget is not burdened with funding directed to the unbudgeted activity.
The president added that the structures and economic management teams in this struggle to advance the country should take advantage of the talent of economists, academics, scientists and specialists from various branches.
The strategy is to unite those who know, assess their proposals and articulate with our objectives, the most important of which is to raise the standard of living of the population, with or without obstacles, he said.