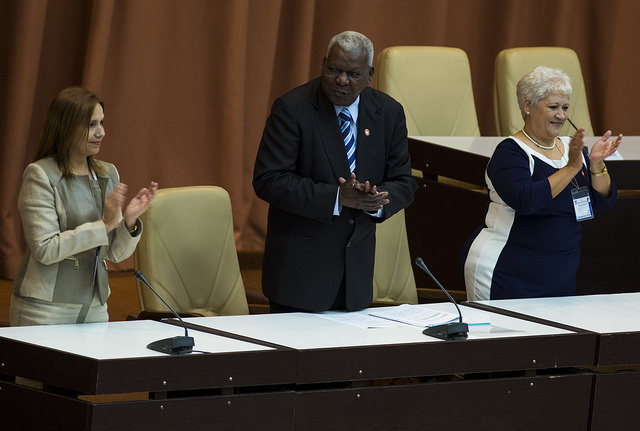 The just sworn-in IX Legislature of the National Assembly of People's Power (ANPP), re-elected Esteban Lazo Hernández as President of the supreme body of the Cuban State
With one hundred percent of the valid votes cast, Lazo Hernández was elected to a second term as head of the Cuban legislature.
In the vice-presidency of the ANPP, Ana María Mari Machado was also ratified, with one hundred percent of the votes of the deputies present, and Miriam Brito Sarroca as Secretary, with 99.83.
Lazo Hernandez has been in office for the past five years, a period where he has enhanced the work of National Assembly.
In her words to the plenary, Gisela Duarte Vázquez, president of the National Nominations Committee, highlighted the efforts made by the re-elected president to improve the functioning of the organs of the People's Power.
Progress in the legislative work complements the political assessment of his performance, said Duarte Vázquez.
Deputy since 1981, Esteban Lazo Hernández has been a member of the Political Bureau of the Central Committee of the Communist Party of Cuba and has extensive leadership experience.
Ana María Mari Machado, who has been Vice-President of the ANPP since 2012, has a vast experience as official and has had good results in her work in the legislature.
Mari Machado is a lawyer by training and has held various positions in the people's court system, from the municipality to the vice-president of the Supreme People's Court.
She chaired the National Elections Commission in 2010, has been a member of parliament since 2003 and a member of the Party Central Committee since 2011.
Miriam Brito Sarroca, a member of parliament since 1998 with extensive management experience, was ratified for a third term as Secretary.
The National Nominations Committee consulted widely with the 605 deputies to obtain the maximum amount of information and consensus on the elected representatives, taking into account their merits, capacity, trajectory and vocation to serve the people.
During this day the Members of Parliament will also elect the 31 members of the Council of State, its President, First Vice-President and Vice-Presidents.
Within the newly constituted ANPP are members of the historical generation of the Revolution, workers, peasants, educators, health and non-state workers, people involved in research, sports, the press, writers, artists, military, leaders and officials of political organizations, and representatives of other spheres of the country's socioeconomic life.