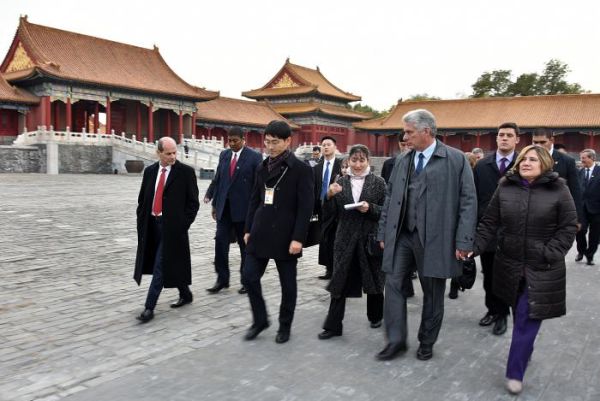 This Wednesday Miguel Díaz-Canel visited the Forbidden City and met with diplomats and workers of the Cuban Embassy, as well as with Cuban students in this Asian country

Miguel Díaz-Canel, president of the Councils of State and Ministers, said in Beijing  that his current visit to China is one
of continuity and consolidation of relations between the two nations.
The President thus valued his presence in the Asian giant during a meeting with Wang Yang, President of the Standing Committee of the XIII Political Consultative Conference of the Chinese People, according to the profile of the Cuban Ministry of Foreign Affairs' twitter social network.
He considered this visit another opportunity to strengthen friendship and the desire to always work with China in favor of strengthening the ties between both states and their peoples, reported Prensa Latina agency from Beijing.
Wang expressed confidence that the meetings with President Xi Jinping and other Chinese leaders will help raise to historic levels the bonds forged on the basis of fraternity, mutual respect and collaboration with benefits for both sides.
Diaz-Canel arrived at the airport in the Chinese capital, where he was received by Ma Xiaowei, president of the National Health Commission of that country, to complete a work agenda that includes a tour of places of historical and cultural interest in that city and high-level meetings.
Fulfilling this program, this Wednesday he visited the Imperial Palace, also known as the Forbidden City, in whose book he wrote: it constitutes for us an exceptional opportunity to get closer to the impressive history of this immense country.
At the end of the second day of his official visit to China, the President exchanged with diplomats and workers of the Cuban Embassy, as well as with Cuban students in this Asian country.
This Thursday Diaz-Canel will meet with Xi Jinping, Prime Minister Li Keqiang, and the President of the National People's Assembly and the Chinese People's Political Consultative Conference, Li Zhanshu, at the Grand People's Palace.
The agenda includes the signing of bilateral agreements and visits to sites of historical importance in Beijing.