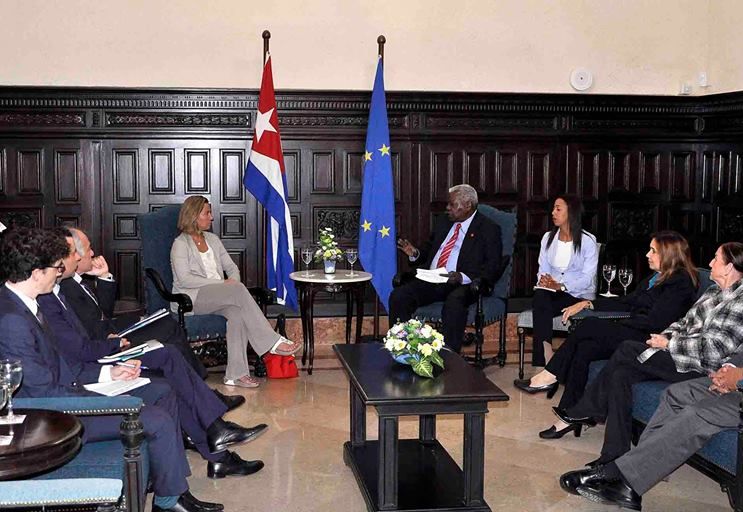 Cuba and the European Union have agreed to expand parliamentary ties, to accompany the agreement signed on political dialogue and cooperation

Federica Mogherini, high representative of the European Union for Foreign Policy, and Esteban Lazo, president of the Cuban Parliament, agreed this Thursday in Havana on the need to expand parliamentary ties, to accompany the agreement on political dialogue and cooperation signed between the European block and the Island.
The relations between the parliaments are decisive for the dialogue between
the governments, assured Lazo when receiving in the headquarters of the
National Assembly of the Popular Power (ANPP), the Capitolio, Mogherini, in
her second day of official visit to Cuba.
Currently, there are 16 friendship groups in the ANPP with the same number
of European parliaments, he said, and expressed the willingness of the Cuban
side to broaden and strengthen relations, regardless of political tendencies, but always with respect to differences and based on equality.
Mogherini said that expanding inter-parliamentary ties will help to accompany the agreement of political dialogue and cooperation between the EU and Cuba, which came into force last November and has already been ratified by seven parliaments of the 28 states that make up the bloc.
She also told Lazo that the Europeans are determined to continue alongside
Cuba in their foreign policy priorities, such as the rejection of the economic, commercial and financial blockade of the United States against this country for more than five decades.
Cuba will always be able to count on the EU as a partner, and there will be
no surprises in that position, she said.
She stressed that the vast majority of MEPs supports the agreement, an instrument that she said, provides ample possibilities for cooperation, investment, and work in various sectors such as culture, an aspect that unites both peoples.
He told her about the results of the first stage of the general elections 2017-2018 in which democratically the people, with the 89.02 percent participation, elected 12,515 delegates from constituencies, pillars of the Cuban political system.
Lazo underscored the importance of the political dialogue and cooperation
agreement, which in his opinion will consolidate ties with the EU, Cuba's second commercial partner and the main donor of cooperation that contributes to the country's development.
This is the second time Lazo and Mogherini meet, who has completed a busy
schedule of meetings in Havana that included a keynote address at the San Geronimo University and meetings with senior officials.